FAU Geomatics Engineering Student Applies Skills to Assist with Local Historic Cemetery Survey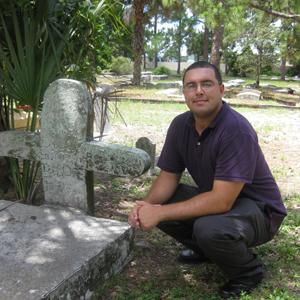 Robert Loane, a senior in Florida Atlantic University's geomatics engineering program, is assisting to create the first official survey and gravesite map of Moore's Cemetery, located on the corner of Monterey Road and Kanner Highway in Stuart, FL. Loane began working on this important project in January 2010 as his internship experience.
"It is so interesting to read the inscriptions that are still legible," said Loane. "There are soldiers, children and families buried there. Many stones and above-ground crypts are so old that the inscriptions have worn away, so we just have to mark them 'unknown.'"
Moore's Cemetery is a historically black burial site with an estimated 300 graves dating from the early 1900's to as late as 2005. The Florida Surveying and Mapping Society (FSMS) Indian River Chapter and the Martin County surveying program began the project in 2001, after the Moore family gave the property to Martin County. Professionals in FSMS have contributed to the project over the years as community service, but a final survey has not yet been completed. The final map and survey will be given to Martin County and the City of Stuart, in addition to the Martin County Historical Society to preserve the documentation.
Loane assisted with creating a survey to set the boundaries of the site, and he is going over each grave marker to record the information. He is using GPS instrumentation to create an accurate plot table. "My internship is over, but I will continue to help with this project until it is complete," said Loane. "It has become a personal interest; even my girlfriend has started helping me with the recording process."
Chris McLaughlin, P.S.M., a project manager for Wantman Group, a multi-discipline engineering and survey firm in West Palm Beach, is a member of FSMS and FAU's geomatics engineering program advisory council. He has been a part of the effort and served as a mentor for Loane. "Robert's skill set and eagerness to pitch in has really helped move the project along," said McLaughlin.
Michael O'Brien, P.S.M., C.F.M, division manager of Martin County's surveying program, is also a FSMS and FAU geomatics engineering program advisory council member. He has been involved since the project's inception in 2001 and is pleased about the progress that has been made. "Moore's Cemetery is a very important part of the county's history, and we are eager to reach completion," said O'Brien. "This project has also been a great display of the unique ways in which surveying and mapping techniques can be utilized, while providing community outreach and a valuable public service."
Loane will be part of the first graduating class of FAU's geomatics program in Spring 2011. FAU geomatics engineering faculty helped Loane secure a position as a geospatial technologist at Erdman Anthony, a civil engineering and land surveying firm located in Royal Palm Beach, FL.
FAU's College of Engineering and Computer Science started the predominately online program, the only one of its kind in the southeastern United States, in 2006 at the Treasure Coast campus in Port St. Lucie. For more information about the geomatics engineering program, contact Ashley Morgan at 772-873-3447 or at ammorgan@fau.edu.
August 4, 2010