FAU Networking Research to Help Improve Road Safety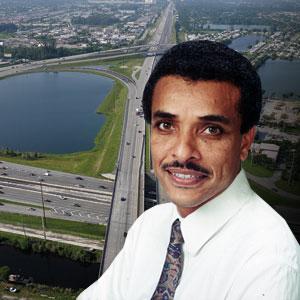 Florida Atlantic University's department of computer and electrical engineering and computer science professor Imad Mahgoub, Ph.D., has received a National Science Foundation (NSF) MRI: Development of Instrumentation to Support Multi-Technology Vehicular Networking Systems Research grant of $330,000 with a matching grant of $142,000 from FAU to develop a vehicular networking testbed and the software tools needed to quickly develop and deploy protocols and applications on the testbed.
"This research provides our students and faculty with the opportunity to work on a new generation of active safety applications and safety systems to help improve roadway safety," said Mohammad Ilyas, Ph.D., interim dean of FAU's College of Engineering and Computer Science.
Vehicular Networks also known as VANETs is a new technology that can provide quick, efficient means of vehicle-to-vehicle (V2V) and vehicle to infrastructure communication such as cell phone towers. V2V communication enables a vehicle to: sense hazards with a 360 degree awareness of the position of other vehicles and the threat that their vehicle presents; calculate risk; issue driver advisories or warnings; or take pre-emptive actions to avoid a crash. The technology has tremendous potential to improve roadway safety, traffic flow efficiency and convenience for drivers and passengers and is part of an envisioned Intelligent Transportation System.
One of the main research challenges to improving this technology is the lack of accurate evaluation schemes. The current research relies heavily on simulation. As new vehicular networks are ready to be released the research team will work to develop a platform to verify the networks performance in real-life environments and identify unforeseen problems. The information gathered from this research will help match the capabilities of next–generation vehicles and enable easier evaluation of complex vehicular networking systems and create a higher standard in vehicular networking research world-wide.
"We are pleased and honored to have been selected to receive this highly competitive peer-reviewed grant award. Both the financial support of the NSF and the matching support of FAU will enable the development of this unique vehicular networking platform, which will help us take vehicular networking research to the next level," said Mahgoub. "This puts FAU in the forefront of this exciting and promising area of research."
The co-principal investigators of the study include Ilyas and Aleskandar Stevanovic, Ph.D., assistant professor of civil engineering in FAU's department of civil, environmental and geomatics engineering.
tkLABS, a local engineering consulting firm specializing in embedded wireless systems, will be assisting the FAU research team with tasks requiring expertise in low-level software development, electrical and mechanical design and manufacturing.
October 12, 2012