Engineering and Computer Science Student Recipient of 2012-2013 Weppner Center Service Award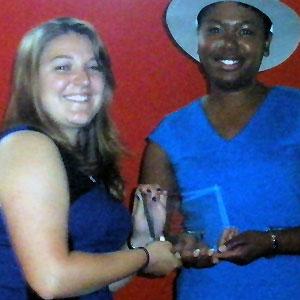 Florida Atlantic University's College of Engineering and Computer Science student Christina Zarrilli was presented with the 2012-2013 Weppner Center Service award. The award is given to three students university-wide in recognition of their passion and outstanding commitment to FAU and to the surrounding community through their volunteer activities.
Zarrilli, 21, was nominated for the award by the department of ocean and mechanical engineering.
Prior to coming to FAU, Zarrilli attended FAU High School and had already begun volunteering with her church, St. Jude's Catholic Church in Boca Raton and the Civil Air Patrol, the U.S. Air Force Volunteer Auxiliary. She continues to serve these organizations today and has logged more than 4000 hours with the Civil Air Patrol during her enrollment at FAU.
While at FAU High School Zarrilli was a volunteer with the Office for Students with Disabilities and a member of the University's Service Learning Board. After graduating from high school she continued her volunteer activities as an undergraduate student in FAU's College of Engineering and Computer Science. She reactivated the dormant campus chapter of the Society of Women Engineers (SWE) and founded the engineering sorority, Alpha Omega Epsilon (AOE). She served as an officer in both organizations and helped coordinate outreach programs to encourage younger students to explore topics in science, technology, engineering and math (STEM).
Zarrilli has also worked as a student spokesperson in the university's Make Waves and TRUE BLUE campaigns to raise financial support for FAU.
Now a senior in the College of Engineering and Computer Science and a member of the College's Innovation Leadership Honors program, Zarrilli will be graduating with honors at the spring 2013 commencement ceremony with a major in ocean engineering and a minor in history.
Zarrilli said her career goals are to use her training and talent as a spokesperson, instructor and engineer to help educate others about the importance of energy conservation and to help bring ocean energy to fruition, making it practical, affordable and available to people worldwide. She views this career track in promoting international conservation, environmental protection and alternative energy policies as important for the nation's and the world's future.
April 22, 2013