FAU's Human Powered Submarine Team Competes in 12th International Submarine Race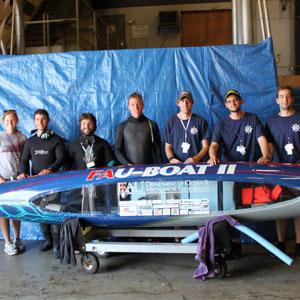 Florida Atlantic University's Human Powered Submarine (HPS) team won first place for best use of composite materials, third place overall for speed and hold the record for the fastest female pilot at the 12th International Submarine Race (ISR) at the David Taylor Model Basin, Naval Surface Warfare Center Carderock Division (NSWCCD), West Bethesda, Maryland.
The FAU team entered a two-man propeller driven submarine, FAU-Boat II and a one-man propeller driven submarine, Talon 1. The FAU-Boat II, was designed using the composite material woven basalt mesh, a material made from volcanic rock that was chosen for its strength, performance and ease of use and won the team first place for best use of composite materials. Talon 1, reached a speed of 6.55 knots, making them the third fastest team at the race. JenniferFrame, an ocean engineering student reached a speed of 5.5 knots, earning her the title of fastest female pilot and breaking the previous FAU record of 3.669 knots.
"The ISR competitions give undergraduate students the ability to test their engineering knowledge, think critically and develop their teamwork skills," said Javad Hashemi, Ph.D., chair of the FAU department of ocean and mechanical engineering. "The faculty and staff at FAU are very proud of the team's accomplishments at the national and international competitions."
The 18-person team made up of all ocean and mechanical engineering students with the exception of Mike Metzger, a business major in FAU's College of Business, included Frame, Sami Graham, Nick Morley, Chris Nunes, Andrew Spence, Mike Neal, Adrian DeSilva, Omar Ramos, Justin Andrade, Danielle Kolber, Youkendy Mera, Jamani Balderamos, Aya Gare, Joseph Crist, Garret Milanovich, Peter Wicker and Craig Ades. The team also was aided by Edgar An, Ph.D., professor of ocean and mechanical engineering at FAU, and FAU machinist Fred Knapp.
"Although we did not come home with the first place prize, the team learned some invaluable lessons and is already gearing up for the next race," said Metzger.
The goal of the race is to design and build a one or two-person underwater vehicle, using the principles of hydrodynamic design, buoyancy, propulsion, guidance systems, underwater life support and systems engineering. The teams race their vehicles using SCUBA equipment in NSWCCD's 3,200 foot-long model basin. At the end of the week-long competition, the winning teams are recognized for best overall performance, innovation, speed, best use of composite materials and spirit of the race. The 23 teams that participated this year comprised of local and international high school and college studentsfrom the United States, Canada, England, Mexico, the Netherlands, Germany and Oman.
About the FAU Human Powered Submarine Team Competitions:
The submarine race is a contest that was originally launched by FAU Ocean Engineering off the Riviera Beach coast in 1989,and has grown to include the participation of universities, colleges, corporations, research centers, high schools and privately sponsored teams from all over the world. Later, the competition was moved to the David Taylor Model Basin, Naval Surface Warfare Center Carderock Division (NSWCCD). FAU set its first official speed record in the International Submarine Race (ISR) in June 1994. At the eighth ISR in 2005, the team placed second overall in performance, claiming six out of nine possible awards while breaking FAU's fastest time with 6.1 knots with a 15-year-old retiring submarine and former Guinness Book world record holder. In 2009 and 2011 the team won first place for speed and second place in the overall competition at the 10th and 11th ISRs. In 2012, the Talon 1, navigated a 175-meter slalom or zigzag course to win for agility, the Overall Runner-Up award and had the fastest lap on the second day of racing at the 1st European International Submarine Race (eISR) at QinetiQ's Ocean Basin testing facility in Haslar, Gosport, England. hps.fau.edu
July 12, 2013